Here, days don't end at 5 p.m.—that's when it's time to kick back with friends and check out the latest craft cocktails or local beers at one of Tampa Bay's breweries, bars or restaurants. For one thing, Fly Bar in downtown Tampa has a killer happy hour on weekdays, and for another, Ulele Spring Brewery on the north end of the Riverwalk offers inspired brews to pair with its native cuisine. And just a streetcar away, Ybor City has an awesome brewery hop, consisting of Cigar City Cider and Mead and Coppertail Brewing Co.
When it comes to nightlife fun, the options don't end 'til early in the morning. Ybor City's clubs on 7th Avenue cater to every scene and music taste, and the bars on South Howard buzz on the weekends with posh nightclubs, beer and wine retreats and hole-in-the-wall taps. Downtown Tampa Fourth Fridays mix it up with concerts, art walks, free tours, drink specials and more.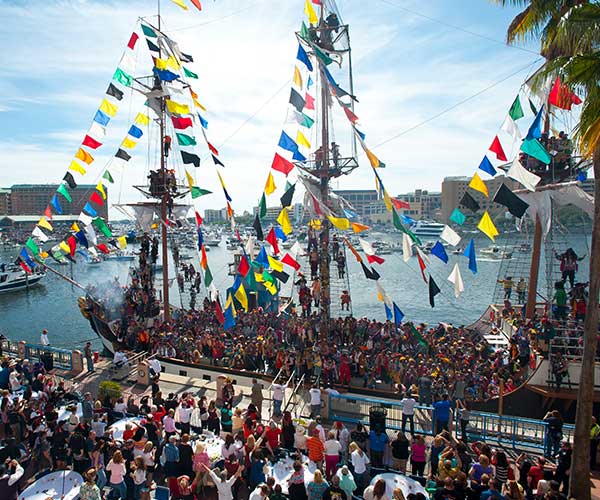 "No matter what you're doing, there's always something new to try," said Cox. "I love the festivals at Curtis Hixon Park—there's always something going on there. It seems like every weekend, there's another event to check out with my friends."
Those events include regular art festivals, outdoor movie screenings, beer festivals, pride events and indie markets. At the beginning of the year, the whole city is invaded by the pirate spirit with Gasparilla, an extravaganza of music, culture, floats and of course, pirates.
You can live in Tampa Bay for years and never get bored, explained Cox. "It's about discovering something new here every day."
Now that you've read what we have to offer, are you ready to discover something new? Seek the treasures that await? The city has more to reveal.